#SPRINGSK8DLX - Instagram Contest
LEARN NEW TRICKS & WIN FRESH STUFF!
Finally spring – Finally good weather – Finally more skateboarding again! It's about high time to brush the dust off your board and finally start skating again. We're blowing the starting whistle into the new season this year with the #SPRINGSK8DLX Instagram Skate contest. Take advantage of the nice weather to learn some new tricks and win big! Next to goodie packs, there's a fat main prize that's definitely worth it!
The Main Prize goes to etienne_courtoy
Have fun!
Challenge #5: 360 Flip
The Challenge is over
The winners of Challenge #5 are:
Challenge #4: BS Crooked Grind
The Challenge is over
The winners of Challenge #4 are:
Challenge #3: Fakie Disaster
The Challenge is over
The winners of Challenge #3 are:
Challenge #2: FS Boardslide
The Challenge is over
The winners of Challenge #2 are:
Challenge #1: No Comply 180
The Challenge is over
The winners of Challenge #1 are:
Here's how to participate
We'll name 5 tricks in total and you'll have four days to learn each trick and film it. Don't sweat it, though; you can see exactly how each trick is done in the Trick Tip Section of the skatedeluxe Blog.
Once you've got the trick in your quiver, you just have to follow @skatedeluxe_skateshop on Instagram, upload your trick with the hashtag #SPRINGSK8DLX and mention @skatedeluxe_skateshop. However, it's crucial that your post is publicly visible!
After every challenge, we'll be choosing 3 winners who can look forward to getting a SK8DLX pack. Only participants who land all 5 tricks have the chance to win the main prize.
The winners will be announced here on this page and be contacted by us on Instagram via direct message.
What if you miss a challenge?
If you've missed the deadline for one of more of the tricks, you can take part in the contest nevertheless. You won't be able to win any of the past packs, but you still have a chance to win the main prize.
Check out the prizes
Main Prize
Out of all the participants that have nailed all five tricks, we'll be choosing one winner who can gear up with 500 CHF worth of stuff!
5 x 3 SK8DLX Packages
After every round, each of the three winners will receive a SK8DLX pack consisting of:
SK8DLX Athletic Deck
SK8DLX AFS Wheels
SK8DLX Blacks II Bearings
SK8DLX Bag
SK8DLX Tool
SK8DLX Sticker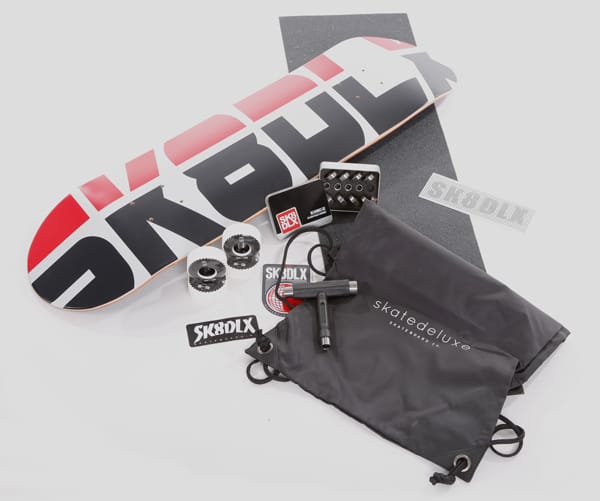 Besides that, we're celebrating the start of the warmer time of year with even more specials and sweepstakes with the skatedeluxe Spring Fever. If you need some new stuff to arm yourself for the challenges, you should definitely check out the Spring Fever hardware bangers! In our Trick Tip section, you'll also find even more tricks.
All decisions are final. Terms and conditions of the sweepstakes apply. The following terms and conditions are formally and legally binding:
1. This contest is not connected to, organised, sponsored or supported in any way by Instagram.
2. By participating, every competitor gives skatedeluxe permission to use the provided video material (for example, to announce the winners).
3. As a participant, you guarantee that all user and other ancillary rights, as well as other rights to the submitted images have been observed and that the imagery is unencumbered by any third party claims.