Double Premium Club Points in November & December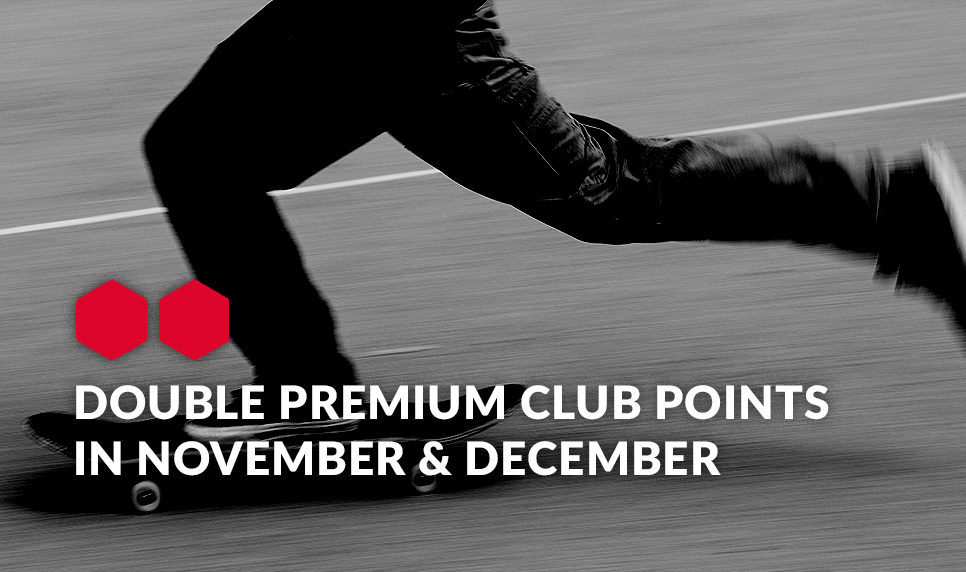 Sorry - There aren't any Premium Club promotions at the moment
We'll keep you up to date about the next Premium Club Promotions via e-mail.
Not a skatedeluxe Premium Club member yet?
Sign up for the skatedeluxe Premium Club now for exclusive rewards and attractive benefits!
So, what are you waiting for?
You're not a Premium Club member yet, but would like to earn Premium Club Points for exclusive rewards?
No problem – you can simply sign up for the skatedeluxe Premium Club during the registration for the Double Points Promotion*. Premium Club membership is free of charge for skatedeluxe customers and can be cancelled at any time.
How do I get Premium Club Points and what can I do with them?
With every order**, product review and by subscribing our newsletter, you'll receive Premium Club Points that you can redeem for attractive rewards like limited editions, signed decks, various skateboard hardgoods, accessories and skatedeluxe vouchers. You can also invite your friends and earn Premium Club Points for their first order.
The Premium Club "How To" explains exactly how this works.
* Please note that during this promotion, you will only receive double Premium Club Points on orders. You'll still receive regular Premium Club Points for signing up, product reviews and creating vouchers for your friends.
Note: As a Premium Club AM or PRO, your 10% or 20% extra Premium Club Points on orders will be doubled too. Status Points won't be doubled during the promotion.
** For products that are or have been exclusively available to members with Premium Club Status and/or only via Premium Club Release Raffles, no Premium Club Points will be credited and accordingly will not be doubled.
skatedeluxe XMAS Specials
Are you looking for more XMAS specials & offers? Here you'll find all current promotions, giveaways, and helpful gift ideas.